DiCamillo tour to houses of the Veneto, 2018
Palladian Pathways in Italy's Veneto
Biographies of the Tour Leaders
Curt DiCamillo
Curt is an American architectural historian and a recognized authority on the British country house. He has written, lectured, and taught in the U.S. and abroad on British history and leads scholarly tours that focus on the architectural and artistic heritage of Britain and its influence around the world. Since 1999 Curt has maintained an award-winning database on the web, The DiCamillo Companion to British & Irish Country Houses (TheDiCamillo.com), which seeks to document every English, Scottish, Welsh, and Irish country house ever built, standing or demolished, together with a history of the families who lived in the houses, the architects who designed them, and the history of the houses' collections and gardens.
In recognition of his work, Curt has been presented to the late Queen Elizabeth The Queen Mother and The Prince of Wales. He is a member of The Society of Architectural Historians of Great Britain and is an alumnus of both the Royal Collection Studies program and The Attingham Summer School for the Study of Historic Houses and Collections. In addition, he is a Fellow of the Royal Society of Arts, is listed in Who's Who in America, Who's Who in the World, a Fellow of the Massachusetts Historical Society, and a member of the Council of the American Museum in Britain.
Curt is the curator for special collections at the New England Historic Genealogical Society in Boston, the largest genealogical society in the world. Previously, he served for nine years as Executive Director of The National Trust for Scotland Foundation USA, based in Boston, where he was responsible for raising over $7 million for the Trust (he currently holds the position of Executive Director Emeritus). Before that Curt worked for 13 years for the Museum of Fine Arts, Boston. A native of the Philadelphia area, he grew up in Central Florida with his sister, the award-winning children's book author Kate DiCamillo.
Jordan Cook
Jordan Cook is the president of International Seminar Design, Inc.; he joined the company in 1997 as its director of Italian programs and spent many years as the company's director of marketing. He has a BA in international economics from American University, and was awarded a Rotary Scholarship to study in Siena, Italy, after his graduation. Since joining ISDI 20 years ago, Jordan has planned and escorted almost 100 cultural tours to Italy – in almost every corner of the country. He speaks fluent Italian and also regularly serves as an escort guide and host to groups of Italian museum donors touring the United States. His interests include art history, baroque music, Renaissance culture, and Italian soccer.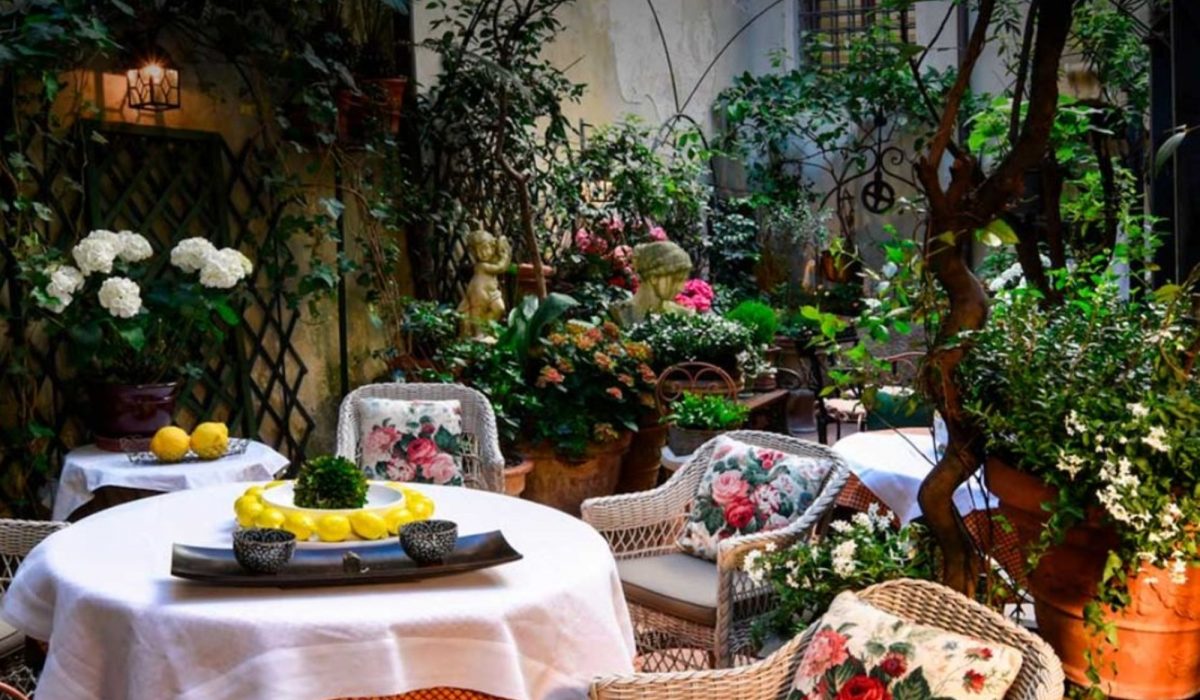 Hotel Gabbia d'Oro
By kind permission of Hotel Gabbia d'Oro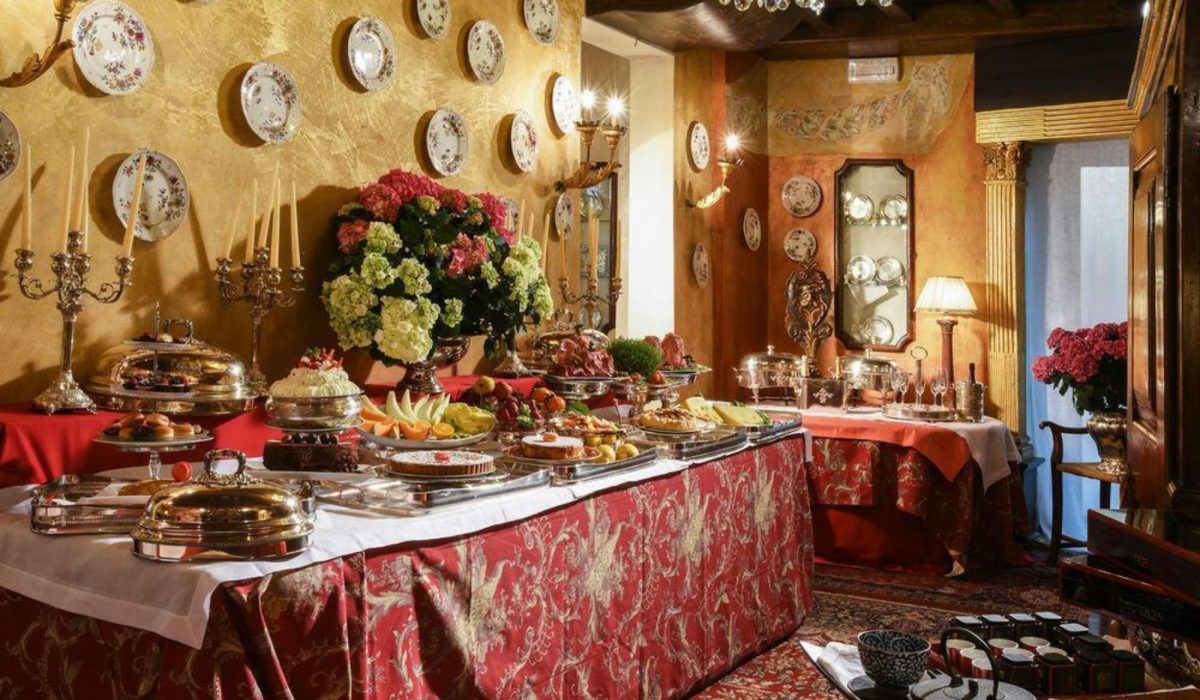 Hotel Gabbia d'Oro
By kind permission of Hotel Gabbia d'Oro
Itinerary
Palladian Pathways
B = Breakfast | D = Dinner | L = Lunch | R = Reception / Drinks | WT = Wine Tasting
Arrive in Verona independently and check-in at the deluxe Hotel Gabbia d'Oro in the heart of the ancient city. After settling in, we'll have a late afternoon visit to a sumptuous private home that will open exclusively for us. The owners will share their fine collection of 17th and 18th century paintings and decorative arts and offer a light reception. After our return to Verona we'll have a welcome dinner at Maffei, one of the city's best restaurants.
We'll stay in the heart of Verona for six nights, enjoying the warm, eclectic interiors of the five-star Hotel Gabbia d'Oro. Located at the corner of Piazza Erbe, where the ancient Roman forum of Verona meets the remains of the Capitolium, our small palazzo has housed the Gabbia d'Oro hotel since 1900. From here you can take a journey through time – from ancient Rome to the Middle Ages to Napoleon, all while encompassing splendid gardens, stately palaces, and delightful restaurants.
Day 2
Monday, May 7
B, L, D
We begin our second day with a visit to the stunning Giusti Gardens in Verona. The gardens, which feature formal parterres, sculpture, and terraces climbing a hill, were laid out in 1580 and are considered today one of the most beautiful Renaissance gardens in Europe. By special arrangement with the Giusti family, we will also have the rare opportunity to visit the Palazzo Giusti, the family's 16th century Mannerist palace, for a guided tour of their paintings and decorative arts collection.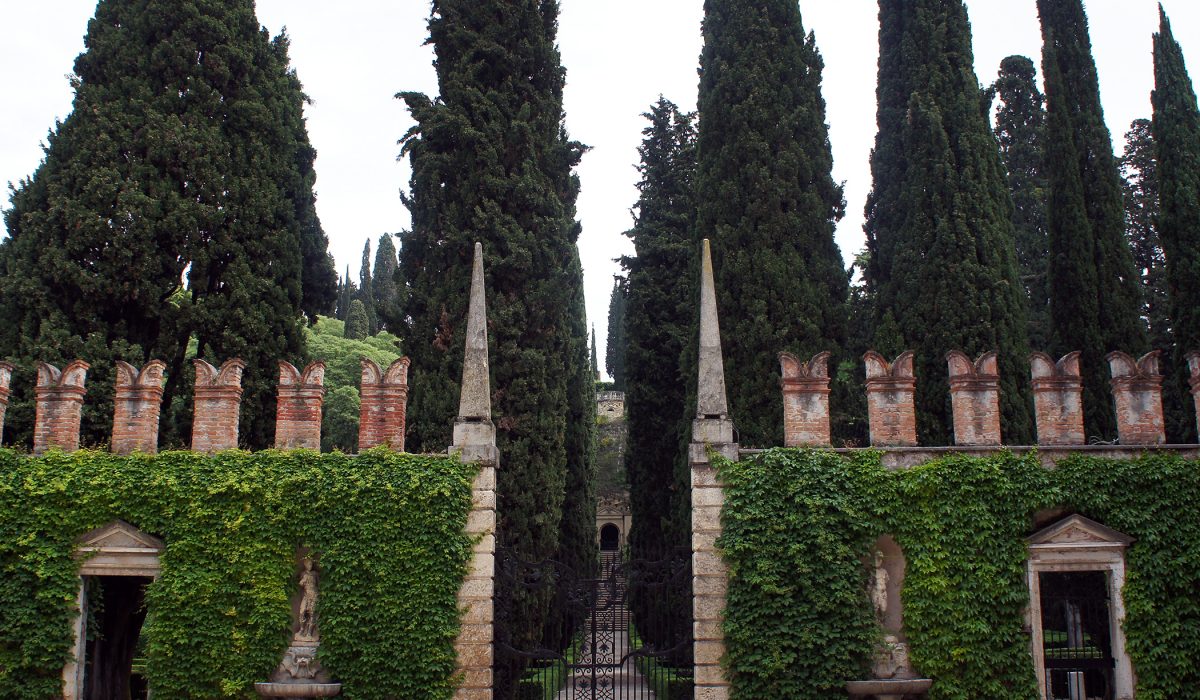 Afterward we'll have a guided walking tour of Verona, where we'll see some of the city's most interesting sights, including Sant'Anastasia, the Duomo, Piazza Erbe, Piazza dei Signori, and the Arche Scaligere, followed by a gourmet lunch at a riverside restaurant with views over the Adige.
Next up is a visit to Verona's Castelvecchio Museum. Famous for its outstanding display of Northern Italian decorative arts from the 14th to 19th centuries, the museum is housed in a medieval riverside castle that was beautifully restored in the mid-20th century by renowned architect Carlo Scarpa. After the museum, we'll return to the hotel for time to rest before we escape into the rolling hills outside of Verona for a special evening tour and dinner at Villa Arvedi, where the owners will share their magnificent home and gardens with us, as well as some of their ancient family documents.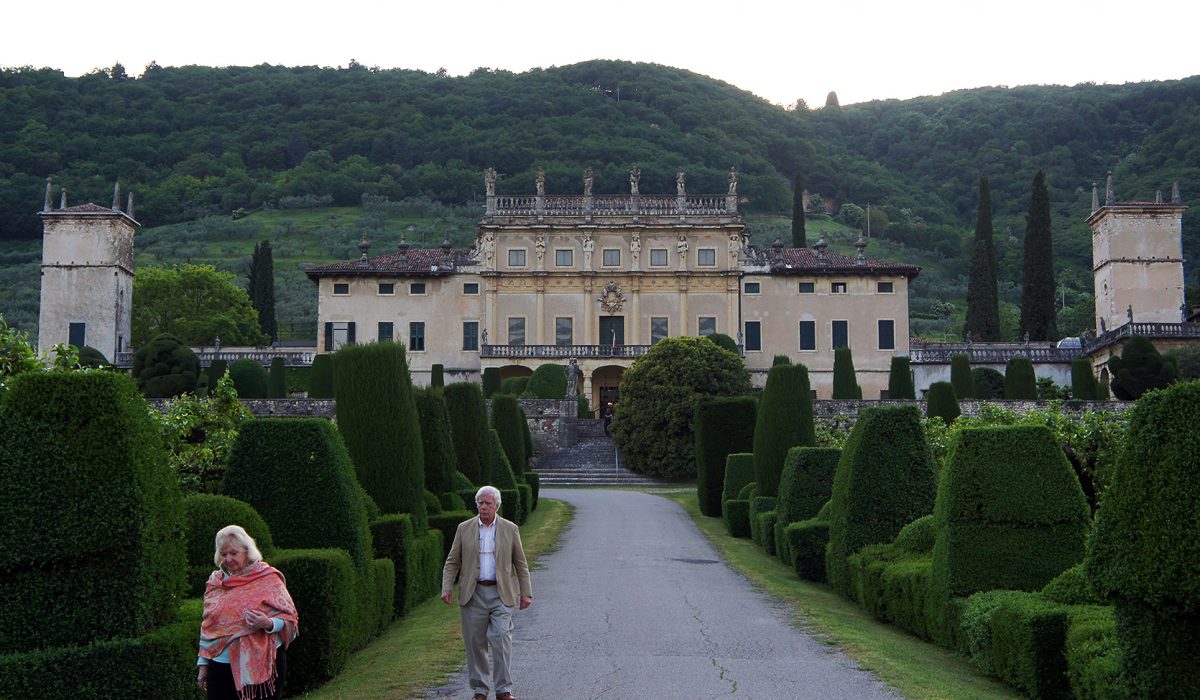 Day 3
Tuesday, May 8
B, L, R
We'll spend today in nearby Vicenza, the home of Andrea Palladio and one of the Veneto's most attractive historic cities. We'll begin with Palladio's final, stunning creation – the tiny Teatro Olimpico, famous for its innovative forced-perspective stage. Then we'll take a walking tour of Vicenza's loveliest historic streets and neighborhoods, stopping for a private opening and tour at Palladio's Palazzo Thiene, now an artistic and cultural foundation for a regional bank.
Next we head up to the Monte Berico Hills for a private opening of Villa Valmarana ai Nani, where Countess Carolina Valmarana will show us Tiepolo frescoes, talk about her family's rich heritage, and join us for a luncheon of regional specialties.
After lunch we'll take a short walk along the bucolic country pathway that leads to Palladio's iconic masterwork – the Villa Rotonda. By special arrangement, the owner, Count Valmarana, will greet us, after which we'll have a special private tour of the interior and exterior of the villa during a time when it's closed to the public.
Before returning to Verona, we'll stop at the exquisite private 16th century villa of one of Italy's top winemakers, where the owner will greet us with a splendid reception in our honor, serving some of his finest wines. Afterward we'll tour his collection of paintings, sculpture, and decorative arts. After our return to the hotel, the evening and dinner is on your own.
Day 4
Wednesday, May 9
B, L, WT, D
Our Wednesday is dedicated to a series of historic estates just outside Verona in the wine-producing Valpolicella area. We'll begin with a visit to a grand private home in the hills just east of Verona that produces Soave wine. Here Marchese Sagramoso will greet us, share his collection of 18th century paintings and decorative arts, and give us a tour of his garden, which incorporates the romantic ruins of a 10th century castle.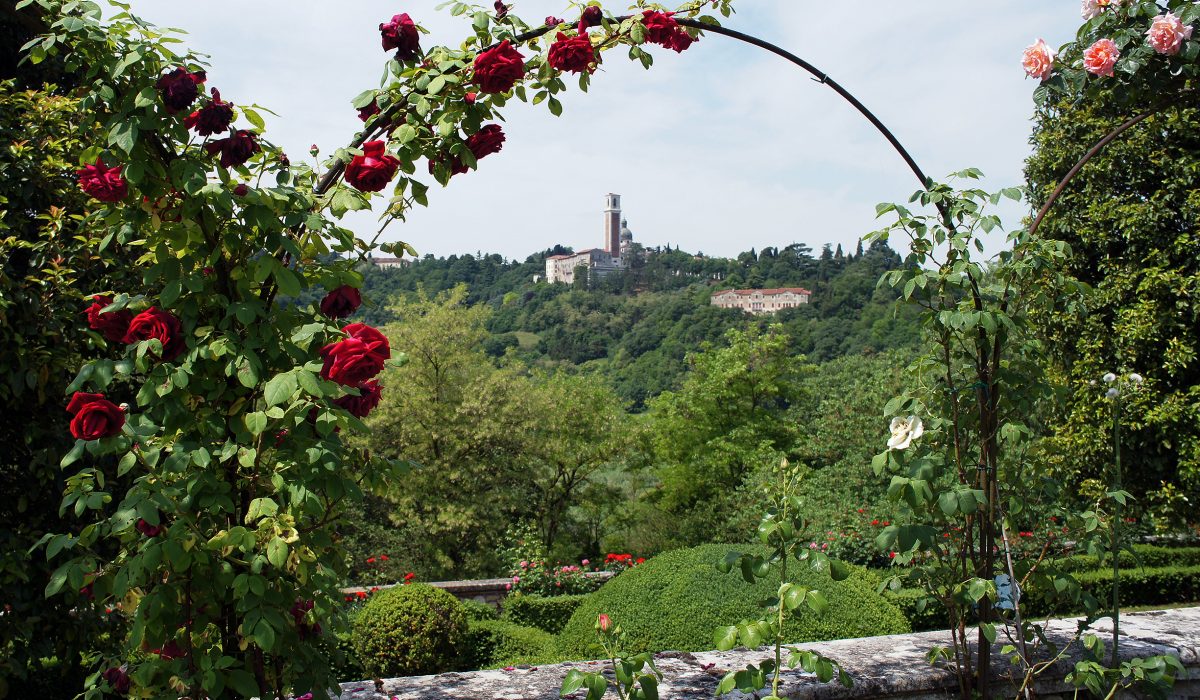 Next we'll continue into the vine-clad hills around the village of Negrar for a visit to the Pojega Garden, another gem rarely experienced by visitors. We'll have a guided stroll in the garden, followed by a delicious luncheon in our honor served inside the lovely Villa Rizzardi. Then we're off to visit the Serego Alighieri Estate, one of the oldest wineries in Northern Italy, where we'll visit the cellars and have a wine tasting. Founded by the eldest son of the great Dante Aligheri, who spent two years in exile in Verona, the winery is today, 21 generations later, still in the ownership of Dante's descendants. We'll return to the hotel after the winery, where there will be time at leisure before we have dinner at a local restaurant.#
Dante's Divine Comedy is considered the supreme Italian literary work and the greatest poem of the Middle Ages – possibly he was inspired by the wine.
Day 5
Thursday, May 10
B, L
Today starts with the amazing Villa Barbaro, famous for its frescoes by Veronese (the artist's most important fresco cycle) and its divine church, Tempietto Barbaro, one of Palladio's last creations. The villa was designed and built by Palladio for Daniele Barbaro, patriarch of Aquileia and ambassador to Queen Elizabeth I of England, and his brother, Marcantonio, ambassador to King Charles IX of France. During World War I Villa Barbaro was used as the headquarters of the Italian Third Army. In 1934 Count Giuseppe Volpi di Misurata, founder of the Venice Film Festival, acquired the villa for his daughter, Marina, whose descendants continue to live here.
Next up is a tour of the tiny walled city of Castelfranco, where we'll see a gorgeous painting by Giorgione and have a memorable lunch at All'Antico Girone, one of the city's finest restaurants.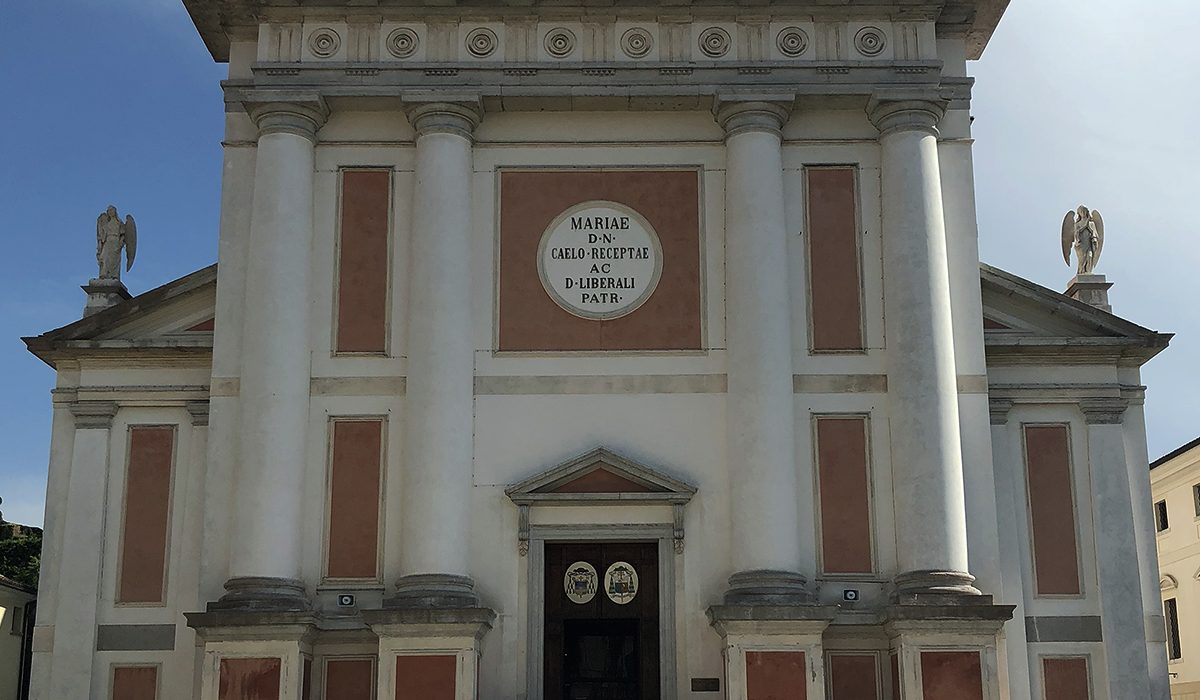 Palladio's cheerful and harmonic Villa Emo is our next destination. Built in 1559 for the Emo family of Venice (it remained in the family until it was sold in 2004), it is one of the most accomplished of the Palladian villas, praised for the simple mathematical relationships expressed in its proportions, both of the elevation and the dimensions of the rooms. In 1570 Palladio published a plan of the villa in his famous treatise, The Four Books of Architecture. Unlike some of the other plans he included in this work, the one of Villa Emo corresponds almost exactly to what was built. The exterior is simple, bare of any decoration; in contrast, the interior is richly decorated with frescoes by Giovanni Battista Zelotti. Instead of the usual staircase going up to the main front door, the villa has a wide ramp with a gentle slope. Also unusually, the loggia does not stand out from the core of the building as an entrance hall, but is retracted into it. This emphasis of simplicity extends to the order of the loggia, for which Palladio chose extremely plain Tuscan columns.
Our last stop today is another Palladian beauty – Villa Cornaro, where we'll have a brief tour of this stately villa now owned by an American couple, after which we'll return to the hotel, where you'll have dinner and the evening on your own.
Day 6
Friday, May 11
B, D
Our last full day together begins with a visit to the picturesque Renaissance court city of Mantua, ruled for centuries by the civic-minded, art collecting Gonzaga family. Our expert local guide will reveal many secrets of Mantua's remarkable treasure-filled Ducal Palace, most famous for the Camera degli Sposi, a room frescoed with illusionistic paintings by Andrea Mantegna. The highlight of our visit will be a tour of Isabella d'Este's private apartments, which are never open to the public.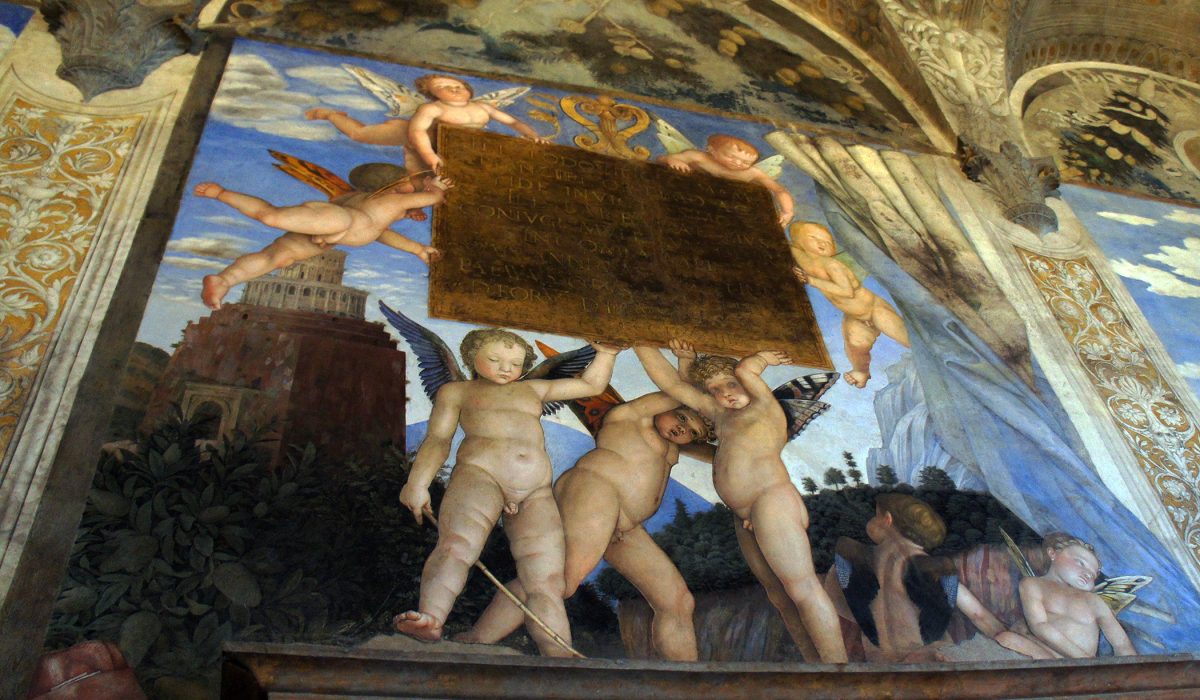 We'll next have a brief visit to Mantua's tiny, beautiful Teatro Bibiena, designed in the 18th century in an early Rococo style by Antonio Galli Bibiena. It was officially opened on December 3, 1769; a few weeks later, the 13-year-old Wolfgang Amadeus Mozart played a concert here with resounding success. His father, Leopold Mozart, wrote about the theatre: "In all my life, I have never seen anything more beautiful of its kind." With a bell-shaped floor plan and four rows of boxes, it followed the new style of theatres then in vogue. The theatre is relatively small, with a stage that is 39 feet wide and 16 feet deep, with a maximum audience of 363 people.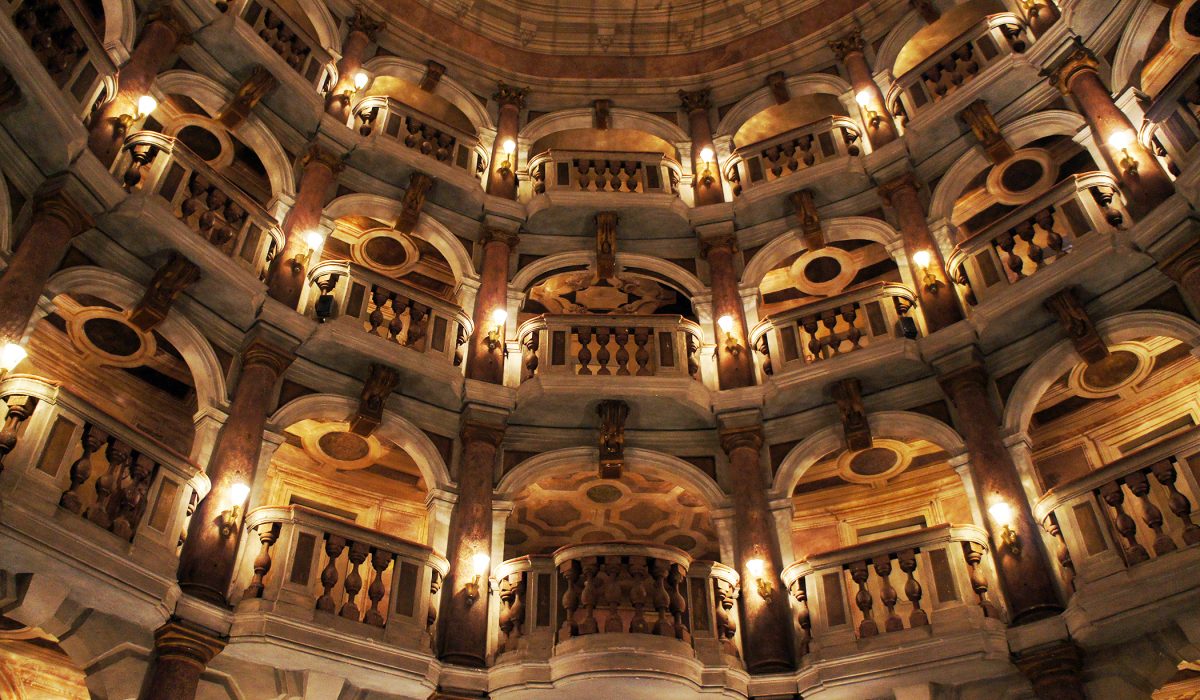 Lunch today will be on your own, when you'll also have time to explore Mantua's charming city center. After lunch we'll tour the frescoed rooms of the Palazzo Te, the country escape and love nest of Isabella d'Este's husband, Federico Gonzaga. A fine example of the Mannerist style of architecture, the palazzo is the acknowledged masterpiece of Giulio Romano, a pupil of Raphael. Romano's wall paintings of nymphs, gods, goddesses, and giants remain as lush and vibrant today as they were 500 years ago.
We'll next visit one of Northern Italy's prettiest secret treasures – the scenic village of Borghetto, with its riverside setting and historic Visconti bridge. Our celebratory farewell dinner will be at a home carved out of a 16th century mill along the River Mincio in the small town of Valeggio sul Mincio. Our hosts will give us a tour of their home while we sip Prosecco and great local wines, followed by a delicious gourmet dinner.
Day 7
Saturday, May 12
B
After breakfast the coach will take participants leaving Italy to the Verona airport.